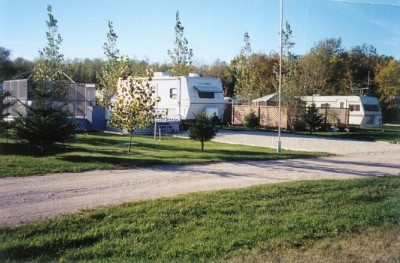 Welcome to Spruce Sands RV Resort. Our family campground has been a favorite summer getaway for the past 50 years.
Since then we have seen many changes, improvements and expansions. All of our 310 sites are large & fully serviced with 30 amp electrical, water & sewer hookups. Our overnight sites have been renovated for your camping enjoyment. Those overnight sites, in E 1 to E 9, offer you a choice of either 30 amp or 50 amp electrical service. Your trailer will sit on a large limestone driveway with a concrete patio right outside of your door. Enjoy the lush greenery around your site, visit the playground or beach for some exercise or just sit around your firepit enjoying the evening stars.
Nestled on the west shores of Lake Winnipeg all our sites are within easy walking distance of the beach, store, cafe & bake shop. You may decide to visit our air conditioned cafe and grab a fabulous homemade hamburger to take back to the beach or enjoy a freshly baked dessert and beverage while enjoying the view of Lake Winnipeg. While you are relaxing at the cafe or at the beach you may want to keep connected by using our complimentary wi fi hot spot.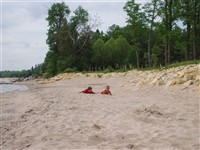 Part of the many amenities our customers enjoy are the clean modern washrooms, showers, laundromat, propane sales, kayak rentals, horse shoe pits, basketball net and our ever changing playground area.  Check out the beautiful sandy beach and swim, kayak or windsurf off the shores of lake winnipeg. Launch your boat from the local marina, or fish off the local fishing docks.
Just a short drive south of us is Gimli. Some of the sights include the seawall of artwork, a beautiful new museum and gallery, fishing and sailing boats of all sizes, and a variety of shops to delight everyone. North of us is Arborg, a vibrant farming and tourism community which has the lovely Icelandic River meandering through the town.
When you get tired of 'Relaxing', visit a few of the unique and interesting towns in the Interlake.
Spruce Sands Resort
"It's Great Between the Lakes where life's always a Beach"